TV Broadcast - Offers
The Power From Knowing God
Many Christians today miss out on the abundant life God promised us because they are caught in the "mechanics" of Christianity. Great results occur in our lives when we invest time in growing our relationship with God. Grace and peace will be multiplied, reformation will occur, and awesome works of faith will be born out of our intimate knowledge of God. In this series, you will begin your journey to establish a real relationship with your savior, Jesus Christ.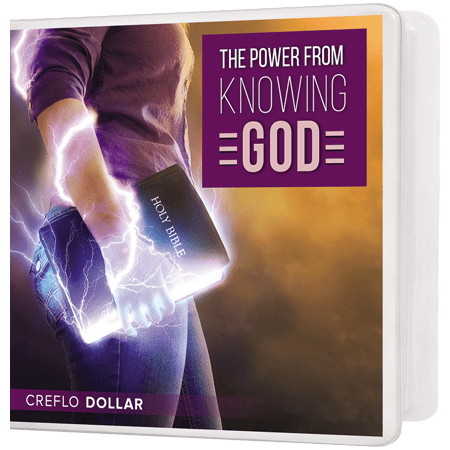 For Your Gift of $45 Or More
The Power From Knowing God 5 Message Series
From Condemnation to Grace
The new covenant of grace is completely different from the old covenant of the law. Now that we are living under grace, we need to know what life is like under this covenant. The law was designed to reinforce people's guilt and constantly remind them of their shortcomings; but when Jesus came, He came to redeem and deliver, not to shame or punish. Condemnation is not from God, but from Satan; it is far-reaching and deadly. In this series, you will experience true change, the way God intends, as you are reminded of who you are and the blessing you have in Christ.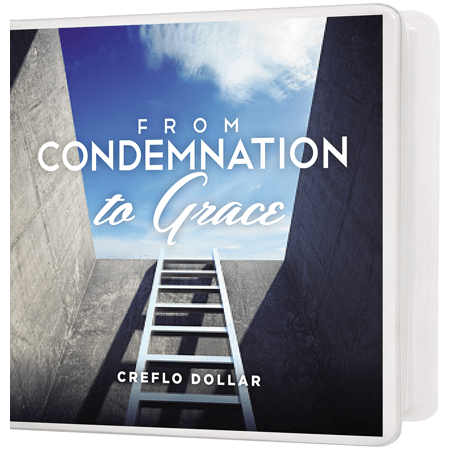 For Your Gift of $25 Or More
From Condemnation to Grace 3 CD Series
Do We Really Need God or Can We Live Without Him?
We live in an age in which people routinely question God. Some wonder why He "allows" bad things to happen without automatically stepping in to make things right. God's true nature has not been properly represented within the body of Christ, resulting in a lack of understanding. To truly know God's nature, we must correctly interpret the Scriptures. In this series, Creflo Dollar teaches that God is our heavenly Father who deeply loves us and wants a personal relationship with us. Through these teachings, you can position yourself to receive the good things God wants to give you.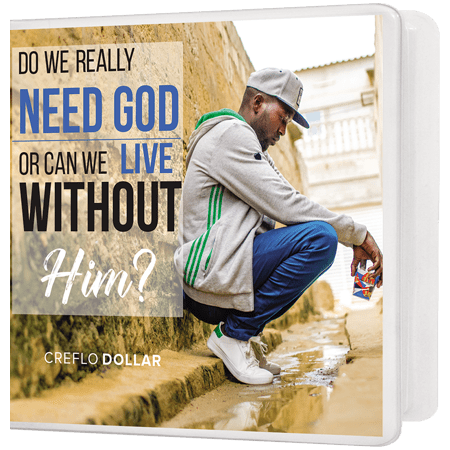 For Your Gift of $85 Or More
Do We Really Need God or Can We Live Without Him? 7 Message Series
Grace and Truth Talk COMBO
The Holy Spirit is the third person in the Trinity. He is alive, and He has an assignment to work in our physical world. The Spirit did not come to convict us of the things we do wrong or the mistakes we make; He came to convict us of unbelief in Jesus. On a personal level, He wants to impact every facet of our lives. We must understand the Holy Spirit's work and His purpose on the earth. He connects us to the grace of God.
There is a definite connection between the Holy Spirit and the grace of God. We must understand the Spirit's work and His purpose on the earth. We have a tendency to get very absorbed in our own abilities and what we can do for ourselves. When we take an honest look at our lives, we must admit that there are some things that happen that defy all natural laws, things for which we cannot take credit. This is the Holy Spirit at work. He is the one who empowers Christians to live Christian lives. This dynamic round table grace discussion features Creflo Dollar, Kenneth Terry, Michael Smith, and Kenneth Fuller.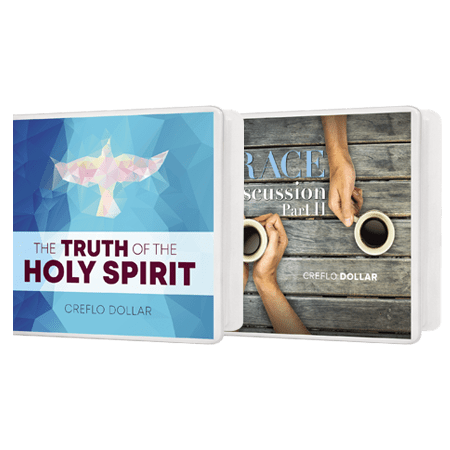 For Your Gift of $60 Or More
The Truth of the Holy Spirit 4 Message Series
Grace Discussion Pt. 2 3 Message Series
Unmasking The Spirit of Mammon
The condition of a person's heart is often revealed by how they handle money. Money is just a tool, but the spirit of mammon tries to use this tool to destroy our trust in God and redirect it into material possessions. Mammon is in direct opposition to God and it has a thousand sneaky ways of telling us we do not need Him. It is so pervasive in the world today that many people never realize they are worshiping it instead of God.
In Unmasking the Spirit of Mammon, Creflo Dollar explains what the spirit of mammon is and why our spiritual future depends on us recognizing, unmasking, and conquering this evil spirit.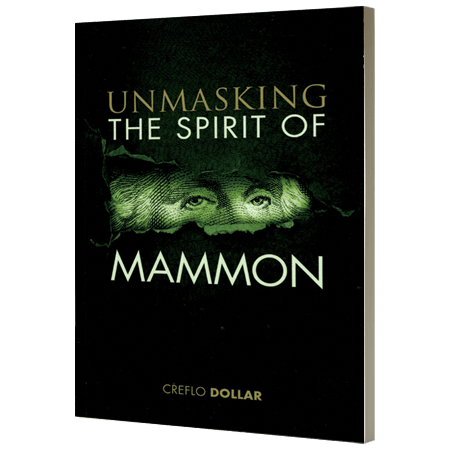 $29
Unmasking The Spirit of Mammon Book
The Power of Sonship
As God's sons, we are to live in the physical realm while operating in the supernatural realm. When we live above the natural, we live according to God's spiritual laws that allow us to experience perpetual blessings. Thinking like we are "mere humans" actually limits and hinders us from experiencing the supernatural life God wants for us. If we want control over our lives and victory over bad situations, we must understand that we are not ordinary human beings. If we have been born again, our identity has changed from servants to sons of God. In this series, you will discover your divine nature in God and learn to live your life with authority and purpose.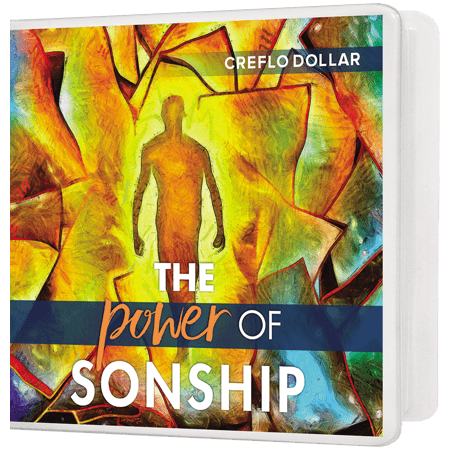 For Your Gift of $15 Or More
The Power of Sonship 2 Message Series
Success Against Strife
Strife is designed to destroy our lives, our relationships, and even the church. When it rises up against us and we do not actively resist it, it shuts us down. We must not fail to stand up to strife, or the blessings that God has in store for us will be blocked. When we resist strife, God's grace can begin to flow in our lives and we see manifestations of His blessings.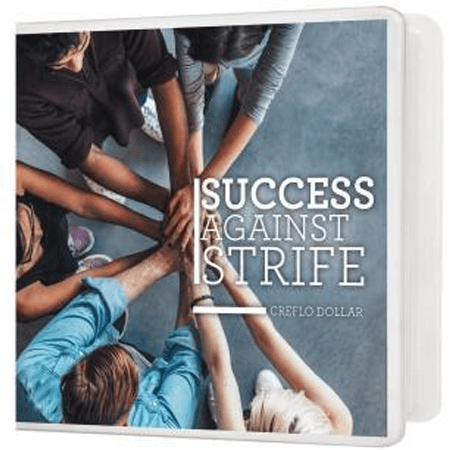 For Your Gift of $30 Or More
Success Against Strife 4 Message Series
Living Under the Correct Covenant
There are major differences between the old and new covenants, and we must be careful not to live according to an old, expired agreement. To get our prayers answered and walk in His blessings, we must know which covenant applies to us in the present age. Now that we are under the new covenant of grace, we have been delivered from the Law of Moses. The new covenant allows us to be blessed based on our status as born-again new creations in Christ. Make the decision now to learn more through these teachings and receive what Jesus has already done by faith.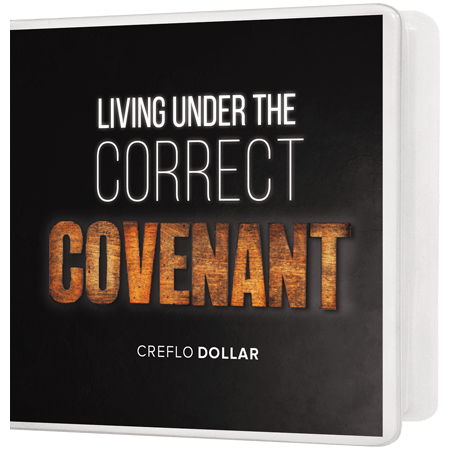 For Your Gift of $15 Or More
Living Under the Correct Covenant 2 Message Series
Radical Grace
We cannot make ourselves righteous, holy, or wise; and we cannot redeem or perfect ourselves. Yet, we receive all this and more when we get born again. Being in Christ makes us everything He already is; and we receive spiritual gifts we could never earn on our own. Our sanctification and holiness in Him is not a gradual process. It happens immediately when we accept Jesus as our Lord and Savior. We must be mindful not to make the mistake of thinking we are no longer righteous because of something we said or did. With this series, you will become rooted in your identity in Christ and settle the sin issue once and for all by realizing that you are the righteousness of God.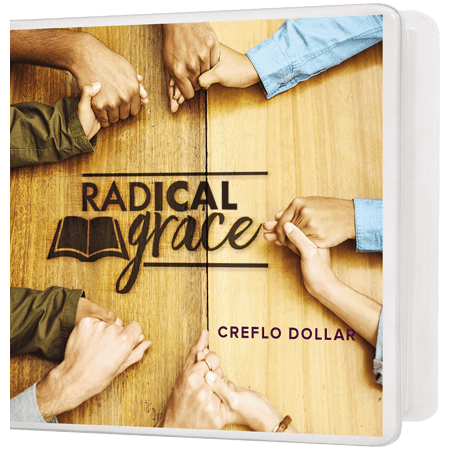 For Your Gift of $25 Or More
Radical Grace 3 Message Series
Previous Love Gifts